Dr. Zurk is named the new executive director of the UW Applied Physics Laboratory
September, 2018
After a very distingushed decade long career at Portland State University Dr. Lisa Zurk has been named the new executive director of the University of Washington (UW) Applied Physics Laboratory. You can read the full article here.
Portland State University hosts Ladies' Lab Night for International Women's Days
March, 2018
On March 8th (International Women's Day) the Science Outreach Society club of Portland State University organized "Ladies' Lab Night". It was an event intended to promote a stronger female presence in science disciplines such as; biology, chemistry, geology, and physics. Being one of the few researcher from the Electrical and Computer Engineering department to participate, Dr. Küsel's multidisciplinary research fit right in with the occasion. Dr. Küsel and fellow lab mate Megan Frantz joined the event with Clyde the Glide, the NEAR-Labs Slocum unmanned underwater glider. They talked about the recording of whale sounds with the two hydrophones fitted to the glider's wings and how they can be used to track marine mammals. Visitors had a chance to hear sperm whale clicks and watch a movie of Clyde diving in the Mediterranean Sea off the island of Sardinia, Italy. It was estimated that throughout the night close to 200 young women, men, and their families showed up to the event.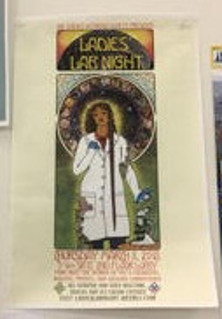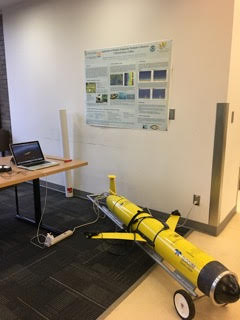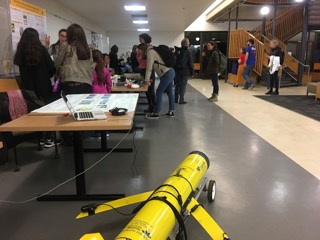 Near-Lab researchers present work at 173rd ASA Meeting in Boston, MA
June, 2017
A record number of talks where given by the NEAR-Lab this year at the 173nd Meeting of the Acoustical Society of America, which took place in Boston, MA during the week of June 25th - June 29th, 2017. Near-lab's director Dr. Martin Siderius and Dr. LanFranco Muzi presented findings from their latest work of passive bottom reflection-loss with veritcal line-arrays. Dr. Elizabeth Küsel presented work for underwater sensing and surveying with autonomous vehicles. Dr. John Gebbie presented work for passive sensing of head wave propagation.
Dr. Martin Siderius gives invited talk at 172nd ASA Meeting
November, 2016
NEAR-Lab's director, Dr. Martin Siderius, gave an invited talk at the 172nd Meeting of the Acoustical Society of America, which took place in Honolulu, HI, during the week of November 28 through December 2, 2016. His talk was part of the "25 Years of Acoustical Oceanography" Special session and was entitled "Passive Acoustical Oceanography".
Congratulations to Dr. Gabe Kniffin and Mrs. Lisa Dykes!
October, 2016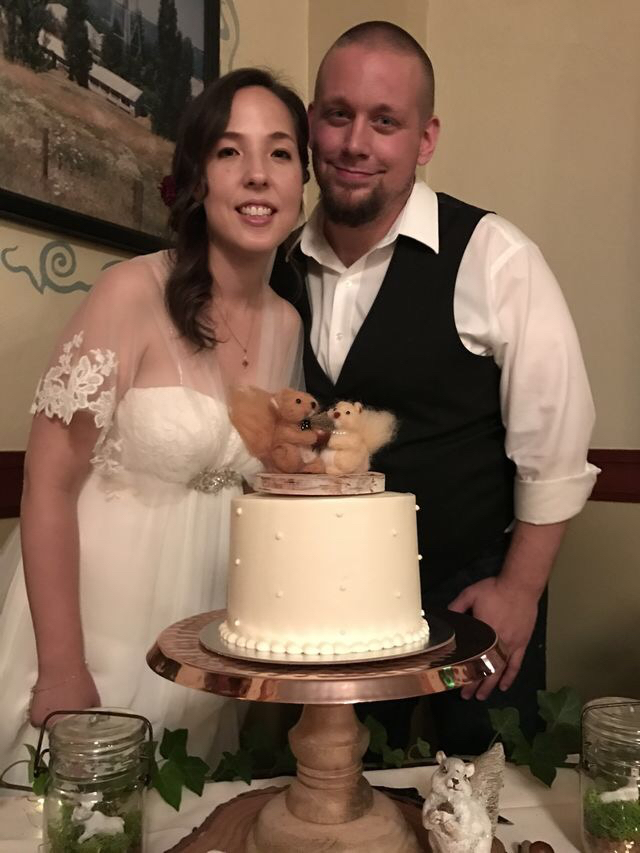 NEAR-Lab alumnus Dr. Gabe Kniffin and Lisa Dykes celebrated their wedding with family and friends on October 30th, 2016 at Edgefield Hotel in Troudale, OR. Several members of the lab, including alumnus Dr. Sam Henry, attended the festivities to wish the newly weds a happy life together. The couple currently lives in Maryland where Dr. Kniffin holds a Senior Engineer/Analyst position at Johns Hopkins Applied Physics Laboratory. We extend our wishes to the couple for a long and happy life together! Check out our gallery for more pictures of the event.
Check out NEAR-Lab's new re-designed webpage!
October, 2016
We are proud to present our re-designed webpage, which is being updated with the lab's latest projects, members, and their accomplishments. The new design was proposed by the web developer Henrique Thorp Küsel, who happens to be Dr. Küsel's brother. We hope it is easy to nagivate and that you find the information you are looking for. Enjoy!
NEAR-Lab welcomes new students in the Fall 2016
September, 2016
The NEAR-Lab welcomes two new doctoral students in the academic year of 2016-2017, Alex Higgins and Scott Jewell. The Lab also welcomes two new masters students, Daniel Frister and Phu Nguyen, and two senior undergraduate students, Adnan Ali and Charles Staffeld. Many successes to them all!
Dr. Muzi participates in sea experiment off CA coast
September, 2016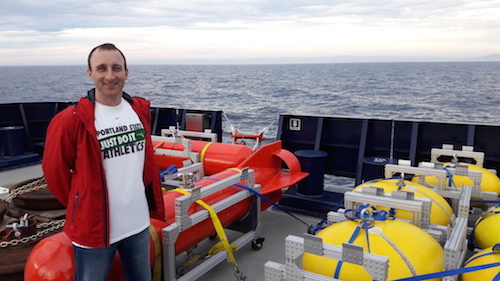 Lanfranco Muzi participated in the Santa Barbara Channel Experiment 2016 (SBCEx16), off the coast of California, September 7-20, 2016. The objective of the campaign was the use of radiated acoustic signatures of transiting ships to estimate the time-evolving state of the ocean volume in a region, as well as the seafloor geoacoustic characteristics. The main agency behind the experiment was the Scripps Institution of Oceanography of the University of California – San Diego, which operates the R/V Sally Ride, the vessel that hosted the scientific party and crew for the two weeks of the campaign. Four vertical-line arrays and two thermistor strings were deployed and collected data for the entire duration of the experiment; these datasets were complemented with CTD casts, ADCP and subbottom profiling. The NEAR Lab will contribute to the processing of the data set, trying to use the transiting ships as acoustic sources of opportunity, to investigate the nature of the bottom in the area.
Dr. Lisa Zurk accepts pretigious position with DARPA
August, 2016
Dr. Lisa Zurk is currently on leave from Portland State University to be a Program Manager in the Strategic Technology Office (STO) at DARPA.
Dr. Küsel is now an OMSI Science Communication Fellow
August, 2016
Dr. Elizabeth Küsel was awarded an Oregon Museum of Science and Industry (OMSI) Designing Our World tuition scholarship to participate in the OMSI Science Communication Fellowship Program. With the help of fellow NEAR-Lab student Charles Staffeld, she developed an interactive demo that aims to explain her research to the general public. The demo was presented to workshop organizers, and OMSI staff who gave feedback to all participants, on the last day of the workshop. The next presentation will be to the general public during the Meet a Scientist event at the museum in a future date to be announced. She now also serves as a research volunteer at OMSI.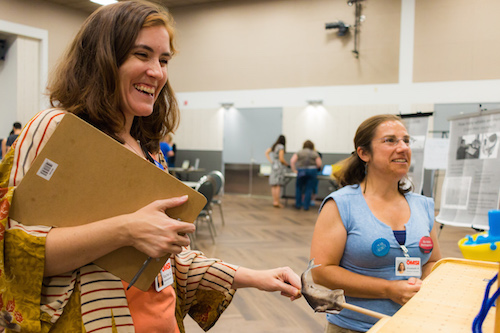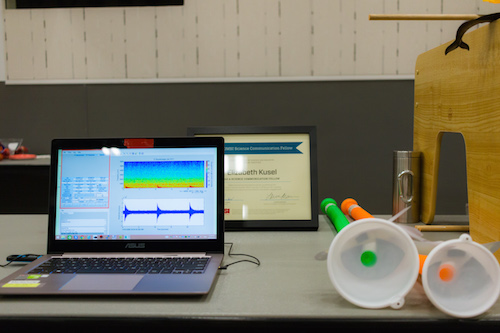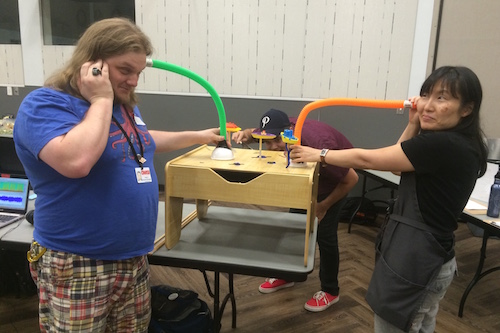 NEAR-Lab participates in the 1st Airgun Modeling Workshop
July, 2016
The 1st International Airgun Modelling Workshop: Validation of Source Signature and Sound Propagation Models, was held in Dublin, Ireland on July 16, 2016, following the 4th International Conference on The Effects of Noise on Aquatic Life. Dr. Elizabeth Küsel represented the NEAR-Lab during the conference and workshop and presented propagation modeling results to the workshop's proposed problems. Dr. Martin Siderius, Dr. Lanfranco Muzi, and Adnan Ali also contributed to the work by providing solutions from different models. A summary of the workshop contributions was recently submitted to the Proceedings of Meetings on Acoustics.
NEAR-Lab Well Represented in the 170th ASA Meeting
November, 2015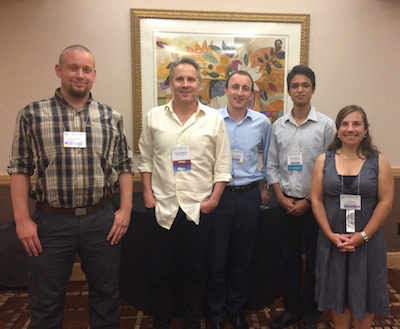 The 170th Meeting of the Acoustical Society of America, which took place in Jacksonville, FL, from November 02-06, counted with the presence of many lab. members. In total, the NEAR-Lab contributed with seven papers to the conference, which were all delivered successfully.
Congratulations, Liz and Jorge!
November, 2014
The NEAR-Lab is proud to announce the birth of Albert Quijano Li on November 7th, 2014! Albert is the son of NEAR-Lab alums Jorge Quijano (Ph.D., '10) and Liz (Zizheng) Li (M.S., '11) and is therefore the first official NEAR-Lab baby. Liz and Jorge are still engaged on research projects related to underwater acoustics. We wish all the best to the new happy family!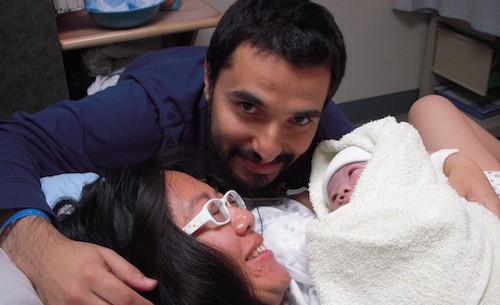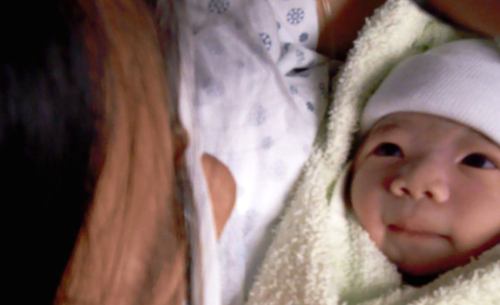 David Pasc joins NEAR-Lab as part of Undergraduate Research and Mentoring Program
October, 2014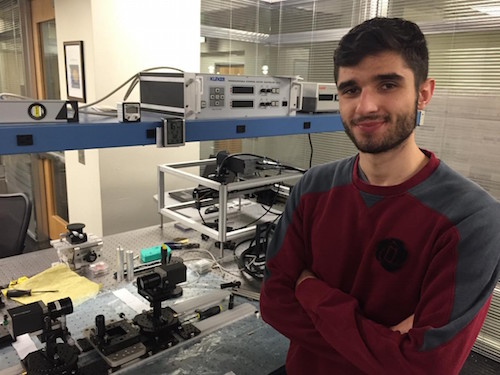 David Pasc is an undergraduate electrical engineering major in his second year at PSU. He joined the NEAR-Lab terahertz (THz) group in October as part of the ECE department's Undergraduate Research and Mentoring Program and has been assisting PhD students Gabe Kniffin and Scott Schecklman in preparing 3D-printed targets for terahertz imaging experiments as well as characterizing the high-density polyethylene focusing lenses used in the NEAR-Lab's Picometrix T-Ray 4000 THz time-domain spectroscopy/imaging system. He aims to continue his work in the NEAR-Lab, eventually beginning other projects that will discover and solve more problems relevant to using terahertz as a more mainstream imaging technology in everyday society.
Lanfranco Muzi wins Best Student Paper Award
June, 2013
NEAR-Lab Ph.D. student Lanfranco Muzi received the Best Student Paper award in Underwater Acoustics at the 21st International Congress on Acoustics (2-7 June 2013, Montreal, Canada), for his paper Synthetic-array beamforming for bottom-loss estimation using marine ambient noise. The paper is co-authored by Lanfranco's adviser and NEAR-Lab co-director Dr. Martin Siderius.
Lanfranco Muzi Awarded CMRE Fellowship
April, 2013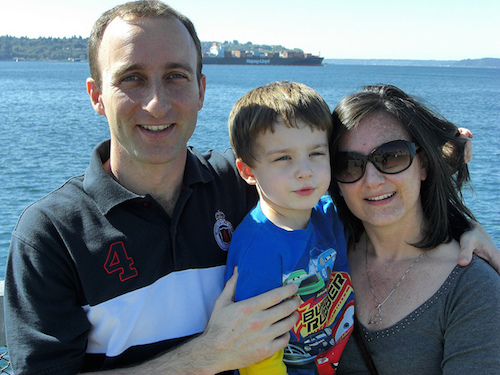 NEAR-Lab Ph.D. student Lanfranco Muzi has been awarded a three-month research fellowship by the Centre for Maritime Research and Experimentation (La Spezia, Italy), in the framework of the Centre's Visiting Researcher Programme. Each year the fellowships are keenly contested among students from all NATO nations, giving the awardees the opportunity to conduct research on subjects of interest to both the researcher and NATO through on-site collaboration with the Centre's scientists and engineers.
Lanfranco holds a 5-year graduate degree (Laurea) in nuclear engineering from the University of Pisa, and an M.S. in computer science from Portland State University. Advised by the lab's co-director Dr. Martin Siderius, Lanfranco joined the NEAR-Lab in 2009, and is currently pursuing a Ph.D. in electrical and computer engineering. His research, partly funded by the Office of Naval Research, focuses on the processing of marine ambient-noise acoustic data acquired through hydrophone arrays for the characterization of the sea bottom. Lanfranco is honored to accept the award and is very excited about conducting part of his thesis-proposal work at CMRE.
Dr. Zurk interviewed on KPSU Radio's Engineering Show
March, 2013
On Wednesday, March 13th, Dr. Zurk was interviewed by DJ Red and DJ Clark as part of KPSU's Engineering Show. Dr. Zurk discussed topics in terahterz and acoustics research, played some whale songs, and also put on an impressive display of culinary expertise. Click here to listen to the podcast.